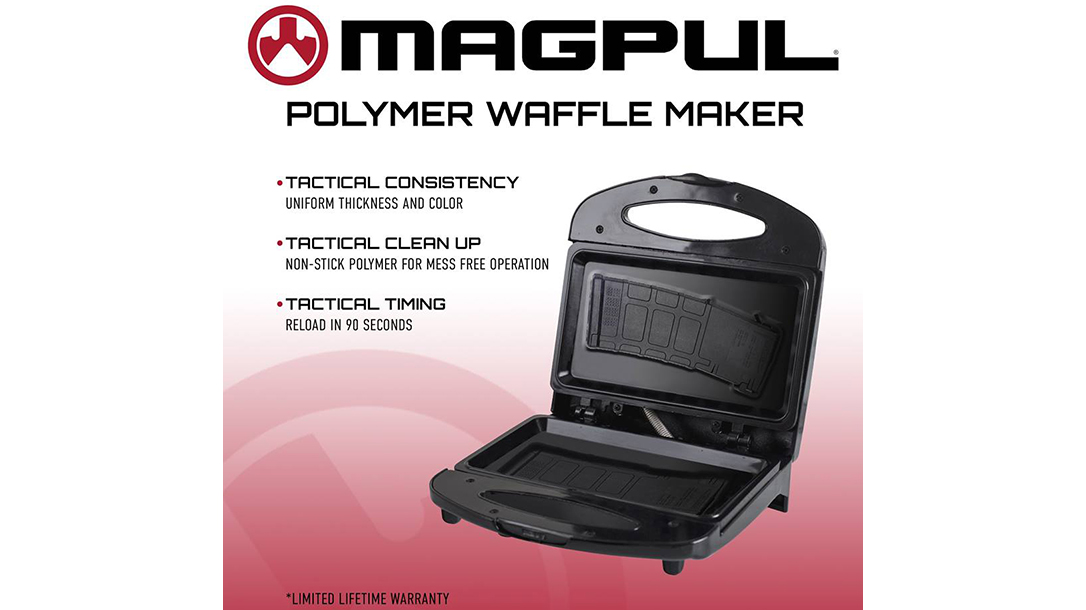 Magpul Waffle Iron April Fool's Joke now in high demand
PMAG-SHAPED WAFFLES SEEMS TO BE A VERY APPEALING PROSPECT. THE MAGPUL WAFFLE IRON WAS MEANT TO BE A JOKE, BUT THE GUN COMMUNITY WANTS THE REAL DEAL.
April Fool's Day always seems to sneak up on us and sometimes the jokes are just plain cruel. Tim Kennedy announced a return to the UFC causing many to cheer him on. This Then a follow up "April Fools" post to pop our hope bubble. Firearms news that is released on April 1 is always suspect, but you never know. For example, on Monday it was announced that the B&T APC9K was the  new U.S. Army Sub Compact Weapon. Funny thing is, this was actual news
So, when news dropped that same Monday of the all-new Magpul Waffle Iron gun enthusiasts took notice. Joke or not, This waffle iron makes PMAG-shaped waffles in 90 seconds. Magpul touted "Tactical consistency for uniform thickness and color," as well as "tactical clean up with non-stick polymer for mess-free operation." Who wouldn't want this?
Ultimately, this was a joke and a good one at that. Prop's to Magpul. However, the joke backfired and now the gun community wants it!
Most understood this was a joke, while others were so over excited they couldn't see past the "funny". Either way, people didn't care that it was a joke. Magpul's social pages exploded Monday with  more that 3000 requests for the Magpul Waffle Iron. Some even kicked states in the nuts that had mag capacity laws.
Here are a few sample comments from followers:
"OK, quit the BS joking and actually make this happen!"
"This needs to be a real thing. April Fool's Day is so disappointing."
"That waffle is so big that it is not allowed in my state. Do you have smaller state-compliant waffle makers?"
"Does it come in 10-round capacity? Asking for my commie state friends."
If Magpul makes this waffle iron, we will buy a handful of them. Who wouldn't like a 30 round waffle? Sadly, sources have confirmed that Magpul will not be making this awesome waffle iron. Guess we will have to go take it out on a few steel targets.
Related Post